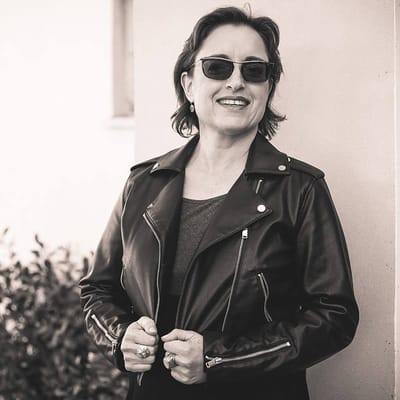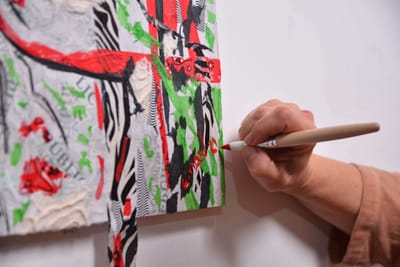 Welcome to my website, "
Einav Canello Art
" . My name is Einav and I am a visual artist
The best way to understand my world is to imagine a world that is filled with colors, in an endless spectrum of hues and tints. I feel,
think and dream in color.
I grew up in a home where paper had been a guest of honor. My father worked in a paper factory, and I used to visit him many times at the plant, which he loved and managed for many years. He showed me around and explained to me a lot about the manufacturing process and how paper is being made from raw material. I learned from an early age to know different types of paper and to love paper as a substance and I used to explore it in different dimensions: draw on it in 2D, and create three-dimensional structures to the point of creating new worlds. In addition I devoted myself to studying drawing, sketching, working with different materials, sewing and art history with the best art teachers I could find. I went to museums and exhibitions and consumed art intensely and regularly.
When I grew up, I used to collect different types of colorful and beautiful papers, with different characteristics, which I found appealing. All of my friends and family knew that beautiful printed paper was my favorite present!
Later on, my husband, who was my best friend from the age of 20, got sick with Lymphoma, and the natural resort for me from the hardships I had to suffer and cope with in my daily life, was to learn the art of Papier Mache, in a wonderful studio that became my refuge. I also started to study building Cardboard furniture, since I have always been fascinated with exploring the boundaries of this consumable substance, and to breathe life into it. In times when my husband's condition worsened, I immersed myself in practicing these arts, which allowed me to dwell for a while in separate parallel worlds, and to vividly decorate them in endless variety of colors. But unfortunately, my husband's illness worsened and after bone marrow transplant that failed, he eventually passed away. I remained heartbroken and anguished, with 3 amazing young daughters that required my endless attention and love in attempt to slowly pick up the pieces of their shattered world. During these painful times, I had to carry on and be strong for my girls, and in daytime I could not express my anguish, so night after night I found myself awake, tirelessly working with Papier Mache, using warm and bright colors, turning it into my refuge and source of comfort. I started collecting chairs that were thrown away to the street and to recycle them by adding Papier Mache and sometimes Cardboard and decorating them. These were indeed difficult times, where I was devastated with pain and could almost get no sleep. People around me helped by bringing me sacks of shredded paper, and I used to knead and shape the mixture of paper and glue for hours, drawing comfort from the process. Dealing with the chairs, standing on their four legs which give them stability, symbolically reflected my ambition for stability in my life, and my dreams of a better future. After shaping each chair to a point it resembled a white statute, I started painting on it with vivid and bold colors, and gluing colored papers decorated with unique designs, in attempt to fill my house with liveliness. I also started exploring the healing qualities of the colour on the human soul and the connection between them - how the environment's color influence emotions and feelings by using bright, happy and colorful colors on the chairs and by dressing colorful cloths , so in two years' time, our house was filled with colorful chairs which brought to our lives a sense of optimism and hope for a better future.
When I exhausted my inner progress practicing these methods, I then neglected Papier Mache, a degradable substance, and looked for a much more sustainable substance, switching to metal. I learned Silversmith's work and specialized in Filigran. I studied with an old and talented master who tutored me like in the Renaissance days, and in two years I created rings, bracelets, necklaces and marvelous earings but I missed my old loves: Acrylic and Soft-Pastel drawing and paper collage.
I decided to explore in color the hyper-realistic drawing which I acquired from an early age , so I started working with soft pastel, and focus on reflections, because I believe that all living creatures are reflections of each other – and all, including the living and the still life – are entwined to a single unity. I have been exploring by drawing glasses, drops of water and the sea. I have also been drawing leaves and from time to time people. My favorite object in the human face are the eyes, which are the window to one's soul. The hyper-realistic drawing does not allow me to express my whole spectrum of feelings and emotions, due to its restrained nature, and I therefore work with pieces of paper from which I create whole new words on Carton and wooden surfaces. The silky paper becomes transparent while it's soaked with glue, hiding me from the world and allows me to express my feelings without fear or shame, which is why I like this liberating media so much.

Whenever I create, I don't think, I feel and focus on here and now. Sometimes when I feel overwhelmed or agitated, I turn to the empty board and colorful papers and start working. Working with color and with paper helps me process my feelings, to reach a better understanding of my self and of the situation, and to ease up my mind. I don't think of which color should fit this place or the other, I feel it in my body. I fix, change and create in the process of my artistic creation, until I sense consistency between my inner feelings and the art I'm creating. Due to this, separating from my works is a time consuming process for me. The finishing moment is always very special to me, and in a way reminds me of birth – on one side, the sense of liberation and relief, but on the other side I still feel the work remains a part of me. When "I feel strongly connected to the work, I go through an internal process to separate, because my works are in a way the fruit of my soul.

As a child I participated many drawing courses
at the Tel-Aviv museum 1982 Art history studies and art workshops
1997-1998 Bezalel Academy of art and design- architecture faculty
1989 Hyper-realistic sketching studies with Avinoam Kossovsky (the painter)
Participate Print workshops at a Print studio in Zichron Yaakov 1997
2002-2005 Study and Training in Papeer Mache at Galit Shteinberg's studio in Ceseria
2005-2006 Cardboard furniture and 3D creation at Angela Ben-Eliezer's studio
2013-2015 Silversmith and filigree craft study at Yefet Cohen's master-craftsman studio in Mazkeret-Batia
2020 Free sketching at Gadi Kuzitz's studio
2016-2021 Various online courses.
In the last years I draw in soft pastel in Hyper-realism style and create in mixed
media collage, a unique technique I developed and you can see the art works in my website in this two categories
EXHEBITIONS2021
Hadera Artists' Gallery
- Art & About Gallery Emek Hefer
- M.A.D.S .Contemporary Art Gallery - Fuerteventura, Canary Islands & Milano,Italy
2022
- Caesarea, Gav Maarachot, Musa-Hof Carmel - The Association for the Commemoration of Tomer-ben-Horin
- Hadera Artists' Gallery
- Art & About Gallery Emek Hefer